This is My Origins Story
Residing in the dark depths of East London; Daniel dwells in the shadow of his drawing board, illuminated only by the glow of a computer monitor. Once with aspirations of grandeur; he dreamt of money, fame and the adulation of his peers.
Now his days are consumed one-by-one. Alone in the din of the big city, he counts the hours by a tally of hot beverages and focuses his pencil on character design and illustration.
…he is happy.
But the journey to get to this point has been arduous and non-linear.
Born in the 80's to a Chinese Father and English Mother; Daniel was raised with his two brothers in the inner city of Nottingham. From an early age, he demonstrated a vivid imagination common to any young child with an acute addiction to cartoons. Obsessed with anything animated; the Transformers, Thundercats and the Turtles were among his early inspirations with aspirations none greater than that of a crime fighter or superhero.
Days passed belly-down in a pile of Lego blocks – building spaceships to rival his brothers – often ending in the inevitable explosion of bricks and angry voices. Later they would progress onto consoles, action-movies and painting miniatures till the early hours of the morning. Anime classics would become a staple of his diet as he progressed through his teens and was exposed to new forms of creative expression. Drawing held a particular pleasure for Daniel and he took pride in his skill; confident in his own ability he was always 'that kid' in class who others would turn to when they wanted a picture of a robot with a jetpack, blowing shit up.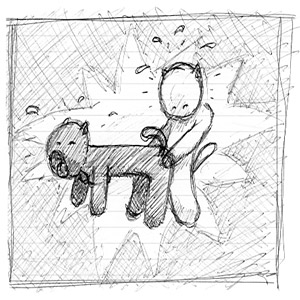 Determined to retain the integrity between work and play; Daniel was reluctant to consider the creative arts as an option for a career. Instead, it was in the direction of Maths and the Sciences which he gravitated, demonstrating an aptitude for objective thinking. This trajectory was maintained throughout high-school and on into college, with no clear indication of a future path. Armed with the pragmatic self-assurance that 'an education in the sciences would provide a lot of options', Daniel struggled to sustain any lasting passion for the range of potential vocations.
This was a turbulent era of youthful angst – filled with conflict, uncertainty and some bad advice. Spending much of this time engrossed in the explosion of online gaming, his artistic interests became melancholy and inward-looking. Experimenting with simple flash animations; the majority of Daniel's creative outlet would take the form of scratchy doodles in biro pen along the side of his class notes – a hand style moving away from the hard lines of his previous influences, to something textured and chaotic. This would continue through his college years into a Masters of Engineering degree at Manchester University where he went on to convert discipline three times in the space of two years – from Aerospace Engineering to Civil, and finally Structural Engineering.
Growing increasingly frustrated with his studies; Daniel decided to take a break from education and travel to the French Alps for a winter in the mountains. However his previous two years in higher education would not prove entirely redundant, as it had introduced him to the writing of Brian Lawson and design theory – something with which he instantly felt familiar. Upon returning to the UK, Daniel enrolled at the Newcastle School of Architecture.
A continued addiction to animation had now spread to an infatuation with Genndy Tartakovsky's amazing work on 'Samurai Jack', and Daniel was increasingly aware of streetwear brands such as 'Bape' gaining notoriety with distinctive illustrated patterns. Continuing to work on self-initiated projects as a form of self-indulgent therapy; taking influence from his interest he incorporated the idea of non-uniform illustrated patterns on projects such as painting his snowboard helmet.
An academic education in design proved an ideal vehicle to introduce a formal understanding of creative thinking. Through problem-based learning, he was able to practice core skills such as concept development, interpreting a brief, professional responsibility and client relationships – all of which would prove useful in the future.
Wrist deep in technical drawing at this time; Daniel would develop an appreciation for the quality of line and the economy of working with one's hands. Armed with a new understanding of the visual vernacular, he would continue to experiment with character illustrations in his own time; redacting facial compositions to recognisable forms, combining the expression of hand with the gestures present informal drawing.
Upon Graduating, our protagonist set out to gain hands-on experience within a professional setting, electing to stay in the North. To maximize his responsibilities, he took on a position at a well-established practice of modest size in the centre on Newcastle working on a range of projects, from community builds, housing and private developments. Although this presented great experience; Daniel became frustrated with the lack of ambition in much of the day-to-day work and found that he was spending an increasing amount of time on creative endeavours.
With a growing lack of satisfaction and ever-increasing political/economic factors causing unrest in the industry, he decided to take time out and reflect on the options in front of him. After just over a year in practice; Daniel packed his snowboard, his sketchbook and a few loose items of clothing setting out for the West coast of Canada and another winter in the Mountains.
Still in his infancy developing a conscious illustrative style, Daniel divided his time between the mountains and exploring his options for the future as a freelancer. During this time he visited various design studios, picking up small commissions and develop a method of working that best suited his skill set.
Growing brands based on illustrative styles, such as 'Lazy Oaf' and 'Gamma Go' were increasingly present in his life, and upon returning to the UK, he continued to focus on character design, experimenting with screen printing. Assuming the alias 'Biccy Monster' – derived from an enduring childhood nickname – Daniel made the move South to the Capital to rekindle some old friendships and establish his place in the world as a character designer and illustrator.
In that time things have rarely stayed stationary for any prolonged period of time. Continuously developing as an artist, Daniel has taken on commissions for children's books, story-boarding, editorial and advertising as well as working on projects for prestigious clients such as the BBC, RBS, Nickelodeon and the English FA.
To this day, Daniel battles for the notoriety, the women and the big bucks…